IPS Blog
Entries since October 2010
Page Previous 1 • 2 • 3 • 4 • 5
Is Homer Simpson Working at the Los Alamos National Laboratory?
October 6, 2010 · By Robert Alvarez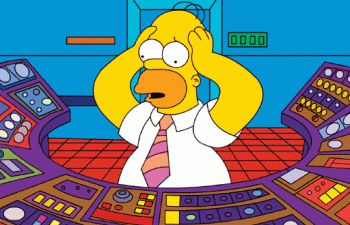 According to recent reports by the Energy department's Defense Nuclear Facility Safety Board, a potentially explosive compound formed from a combination of bathroom cleaners and plutonium vapors has shut down two processing areas inside Los Alamos National Laboratory's Plutonium Facility-4 (PF-4). This threat has stopped plutonium processing in the nation's only facility for production of plutonium "triggers" for nuclear weapons since mid-July.
In other words, toilet room fumes have interacted with plutonium vapors in a common vent system to form an ammonium-nitrate compound -- the same type of explosive used in the Oklahoma City bombing. For years, personnel were finding this dangerous white powder on filters, without bothering to know what it was.
So much for the expertise of Los Alamos where billions of dollars are spent each year to better understand nuclear explosives.
Better Late Than Never: Obama puts solar panels on White House
October 5, 2010 · By Daphne Wysham
"No."
That was the disappointing response from the Obama White House a few weeks ago to the plea from climate change activists who transported solar panels dating back to the Carter Administration to the White House to get them reinstalled. President Jimmy Carter placed solar panels on the White House roof during the energy crisis of the 1970s--only to see them removed by President Ronald Reagan in 1986. Writer and climate activist Bill McKibben and his group 350.org managed to find them, dust them off, and offer them up as one small gesture President Obama could take, sending a signal, once again, that the White House was serious about supporting clean, renewable energy. The rejection was stunning.
People puzzled over why. Maybe the White House figured placing panels from Carter on the White House roof would allow for too close an association with a one-term president. Maybe he just didn't get it.
Well, just as mysteriously, on October 5 came the announcement that the "no" had been transformed into a "yes"--with some caveats. The White House will install a new set of solar panels and bring solar heated water some time in 2011.
Perhaps this change of heart had something to do with disgruntled climate change activists responding to the Obama Administration's first "no" with calls to indeed make him a one-term president. Maybe it had something to do with the upcoming mobilization of 350.org activists on October 10, 2010--10-10-10--in a global work party to take action on climate change with 6,174 events and actions planned in 184 countries. Or maybe it had a little to do with the fact that solar
is now out-competing nuclear power, with costs coming down for solar while costs continue to rise for nuclear, and the U.S. losing out to China in the production of solar cells.
Or maybe Obama finally listened to the U.S. Department of Energy which has claimed solar could indeed power the U.S. economy, dispelling the myth that base load power can only come from large coal, gas, hydro and nuclear power plants. The DOE claims that:
"...photovoltaic (PV) technology can meet electricity demand on any scale. The solar energy resource in a 100-mile-square area of Nevada could supply the United States with all its electricity (about 800 gigawatts) using modestly efficient (10%) commercial PV modules.. The land requirement to produce 800 gigawatts would average out to be about 17 x 17 miles per state. Alternatively, PV systems built in the "brownfields"—the estimated 5 million acres of abandoned industrial sites in our nation's cities—could supply 90% of America's current electricity..."
But whatever caused the change of heart, President Obama has restored a small sense of hope among climate activists that he really will make climate change a focus for him in coming months. It's a small gesture, but in dark times such as these, small gestures can lead to more meaningful and transformational ones. Let's hope this change of heart is one we can believe in.
Job Training Partnership Program: Step Towards the Right Direction?
October 4, 2010 · By Kevin Shih
Catherine Rampell of The New York Times reported over the weekend:
As part of efforts to address record-high levels of long-term unemployment, President Obama plans to announce a new national public-private partnership on Monday to help retrain workers for jobs that are in demand.

The national program is a response to frustrations from both workers and employers who complain that public retraining programs frequently do not provide students with employable skills. This new initiative is intended to help better align community college curriculums with the demands of local companies.

"The goal is to encourage community colleges and other training providers to work in close partnership with employers, to design a curriculum where they want to hire the people coming out of these programs right away," said Austan Goolsbee, chairman of the President's Council of Economic Advisers.
Although some have come out to argue that this entire effort is misguided, and that instead of focusing on training a more qualified workforce, we should be focusing our efforts at encouraging both public and private sectors to hire more workers. I don't think that line of logic is 100% accurate, especially if we are looking at the long-term.
This is true--during our current unemployment crisis, there are five unemployed workers per job opening. However, our economy is also on the verge of a skill shortage. According to the Britannica Blog:
Thirty-two percent of U.S. manufacturers report a skill shortage in the midst of this great recession. How will our high-tech economy cope once expansion begins again? The talent pipelines are broken. Younger people have long spurned science, technology, engineering and math-related (STEM) jobs. America's businesses have chronically underinvested in training their own workers, or helping support higher quality science/math education programs in their communities to better prepare youth for careers in a high-tech world economy.
With that being said, I think it is definitely a step in the right direction if the training program proposed by the White House would help train and encourage more community college students to go into STEM fields.
However, whether that is the case is unclear. More information is definitely required.
One Year After the Recovery Act...
October 1, 2010 · By Kevin Shih
With the Democrats facing a tough mid-term battle, the Obama Administration is doing their best to highlight the legislative achievements that the Dems have won over the past two years.
Today, Vice President Biden put outs a report that illustrates the progress that the American Recovery and Reinvestment Act of 2009 (aka ARRA, Recovery Act and the stimulus package/biIl) has made over this past year.
Since there is still so much confusion around the effectiveness of the Recovery Act, I decided to use this space to summarize some of the key improvements and impacts of the stimulus bill, with the help of The Washington Post, and the Center on Budget and Policy Priorities (CBPP):
Vice President Biden's report has noted that the Administration had spent 70% of the act's original $787 billion, it has been diligent in getting the funding into the hands of those who are creating jobs.


Even with efficient spending, stimulus grants and contracts have been relatively free of the fraud charges that routinely plague governement programs. Only two percent of awards under the program have received complaints.


Although the Gross Domestic Product (GDP) is a crude measure of the economic wellbeing of people, it is still one of the most popular wealth indicators used all over the world (Here is some more info). According to CBPP, our GDP would have been lower without the Recovery Act:
According to the Congressional Budget Office and the Council of Economic Advisors, ARRA has created/saved approximately 2 million jobs over this past year.


CBPP has also calculated that without the Recovery Act, the unemployment rate would be much higher than the 9.6% we are seeing right now:
Furthermore, and this is usually the provision that has been ignored, the Recovery Act has provided funding for the TANF Emergency Fund, which is a program that has helped 37 states provide 250,000 subsidized jobs for unemployed parents and youth to weather the economic recession. Unfortunately, with a Senate unwilling to reauthorize the program, the funding ended yesterday (September 30) and many of these jobs will be terminated due to this ill-informed inaction.
It is true, the Recovery Act did not "solve" the economic crisis, and bring our economy back to pre-crisis levels. However, without it, our economic situation would be a lot worse than it is now. If anything, these highlights illustrate that more stimulus would probably lead to a more robust economic recovery.
People should also keep in mind that ARRA was passed last year without much Republican support in the Senate, and without any Republican support in the House.
So should we really be handing the keys of Congress back to the GOP, who have been strongly opposing the stimulus since the very beginning?