IPS Blog
Entries since September 2012
Page 1 • 2 • 3 Next
A Tale of Two Speeches
September 27, 2012 · By Phyllis Bennis
Palestinian Chairman Mahmoud Abbas' speech to the United Nations General Assembly was as much about trying to reclaim his dwindling support among Palestinians as it was designed to outline Palestine's intention to move for a new status at the UN. The consequence of "non-member state" status, while not granting full UN membership, would provide a UN imprimatur to the identity of Palestine as a state, meaning it would have the right to sign treaties. Of particular significance would be Palestine joining the Rome Treaty as a signatory to the International Criminal Court. That would, at least potentially, enable an ICC investigation of potential Israeli war crimes on Palestinian territory.
Beyond his anticipated call for the new UN recognition as a "state," much of Abbas' speech focused on Israeli violations of international law, particularly the Geneva Conventions. While he issued his usual call for resuming peace talks with Israel, he called for the United Nations, specifically the Security Council, to pass a binding resolution setting out the terms of reference for any renewed diplomatic process, something that seems to contradict his longstanding willingness to allow unchallenged U.S. control of the negotiating process.
In other parts of his speech, the PLO Chairman reasserted the PLO's role as the sole legitimate representative of the Palestinian people, while rejecting the occupation's efforts to divide Gaza from the West Bank and East Jerusalem, and reaffirmed the need for a "just solution" for Palestinian refugees under the terms of UN resolution 194. In language clearly designed to win support from Palestinians both in the OPT and in the diaspora, many of whom remain dissatisfied with the current Palestinian leadership and whom he identified as "an angry people," he spoke of Israeli "apartheid," asserted Palestinian rights and the need to continue "peaceful popular resistance" against occupation. In a clear effort to win support from Palestinian civil society, whose call for a global campaign of boycott, divestment, and sanctions has fundamentally challenged longstanding PLO/PA strategy, he spoke in a language of rights, rejecting the notion of statehood being bestowed on Palestinians, and identified Israel's "settler colonialism" as something that must be "condemned, punished, and boycotted."
As anticipated, Prime Minister Netanyahu's speech, reflecting the huge political gain that he has won from his year of escalating threats against Iran, barely touched the Palestinian question. He has taken advantage of the fact that as long as the claim (however specious) that Israel faces an "existential danger" from Iran is on the table, no one, certainly not the United States, has been willing to exert any real pressure on Israel regarding the occupation. His reference to Israel's occupation was limited to a brief paragraph in which he claimed that "we seek peace with the Palestinians." He then went on to lecture the Palestinians, saying "we won't solve the conflict with libelous speeches at the UN, that's not the way to solve them." He said the conflict wouldn't be solved with "unilateral declarations of statehood," that the only goal can be a "mutual compromise in which a demilitarized Palestinian state [heavily emphasized in his delivery] recognizes the one and only Jewish state."
Netanyahu's speech focused almost solely on Iran, comparing it to Nazi Germany and calling for the world to join his crusade against it. He spoke derisively of those who claim that a nuclear-armed Iran might stabilize the Middle East, looking up from his prepared notes with a sarcastic "yeah, right." Interestingly, he reminded the world — seemingly as a point of pride — that he had been speaking about "the need to prevent Iran from developing nuclear weapons for over 15 years." It apparently didn't appear to his speechwriting team that this admission, when all of those earlier warnings were shaped by the same "it's almost too late" rhetoric that we heard today, might somehow discredit his unchanging claim.
Ignoring the fact that the United States, unfortunately, already has an "all options on the table" red line of its own (preventing Iran from obtaining a bomb), Netanyahu called on the United States to endorse his own specific red line for using force against Iran. He set his red line as Iran's ability to enrich uranium to bomb grade, and demanded that the U.S. join. While Iran has not enriched anywhere close to that level, Netanyahu's language reflected his red line on Iran's "capability," a line that he argued is almost here. He spoke on the need to attack Iranian facilities while they are "still visible and still vulnerable." Perhaps taking a lesson from then-Secretary of State Colin Powell's use of fake "anthrax" props when trying to persuade the Security Council of the need to go to war against Iraq in 2002, Netanyahu held up a primitive grade-school level poster prop and used insulting "this is a bomb, this is a fuse" language.
Netanyahu's overall language, however, was significantly more conciliatory towards President Obama than much of his recent rhetoric. Perhaps it was the cohort of Jewish Democratic Party heavyweights who scolded the Israeli prime minister for interfering in U.S. politics, or perhaps it was his U.S. advisers, or perhaps his own political team at home — but whatever the reason, Netanyahu's overt embrace of all things Romney, and his disdain for all things Obama, was kept well under wraps in New York.
HuffPost Live: Is Libya better off now?
September 27, 2012 · By Matias Ramos
"I think we have to look at the situation as a very complex one," said Bennis, who runs the New Internationalism Project in our institute.
Other participants were HuffPost Live Host Ahmed Shihab-Eldin, Mouaz Moustafa of the Syrian Emergency Task Force, Steve Clemons, the Washington editor for The Atlantic, political analyst Raed Jarrar, and Dubai-based political analysr Taufiq Rahim. Watch the full discussion on the video below:

This Week in OtherWords: September 24-Oct. 2, 2012
September 24, 2012 · By Emily Schwartz Greco
This week, OtherWords is running an op-ed by Raul A. Reyes that sums up Mitt Romney's lackluster efforts to win over Latino voters and a commentary by Dashka Slater about the disappearance of the kinds of jobs that traditionally provided low-income Americans with economic mobility.
Next week, we'll start distributiing our commentaries and cartoons on Wednesdays. Please don't be alarmed if you don't see our latest offerings appear on Monday Oct. 1. They will appear at OtherWords.org on Wednesday, Oct. 3.
Also that day, the Institute for Policy Studies will release the first congressional report card that grades lawmakers on what they've done to narrow our country's economic divide. The report card will identify the members of Congress most friendly toward the "1 percent" and the "99 percent," based on their positions on 40 legislative actions. It will also provide grade-point averages for each state's congressional delegation.
We'll send out a link to this report in the Oct. 3 OtherWords newsletter. News outlets seeking advance information should contact Lacy MacAuley, the IPS media manager, at lacy@ips-dc.org
As always, I encourage you to subscribe to our weekly newsletter and visit our blog. If you haven't signed up yet, please do.
U.S. on a Pedestal of Nuclear Immorality
September 21, 2012 · By Saul Landau
30-plus years ago Iranian zealots grabbed some CIA and Embassy folk in Teheran and held them hostage, and then let them go, and Reagan took credit. But before we plunge into military conflict with Iran, as Israeli Prime Minister Netanyahu extols, the press might indulge its public in some useful historical review – they forgot some important history – to try to deal with the alleged threat of "nuclear mullahs" as Bill Keller called Iran's religious leaders.
Maybe, start with questions like: What did we do to Iran and what role did our government have in fostering its nuclear program? And why does Israel's insistence on U.S. backing become so important to U.S. policy?
The One Percent Supreme Court: A Conversation with the Nation's Katrina vanden Heuvel
September 21, 2012 · By Martha Burk
Whether you're a Democrat, Republican, tea-partier, liberal, conservative, or in-between, you're experiencing an election season unlike any in U.S. history. That's because the rules on political spending have changed in a billion dollar way.
In 2010, the Supreme Court ruled in the now-infamous Citizens United decision that corporations must be treated the same as people when it comes to political speech. The Court said the ban on using corporate cash to endorse or oppose political candidates (in place since 1947) was unconstitutional. The ruling freed them up to spend money both on "electioneering communications" and advocating for the election or defeat of candidates — so long as they don't actually put the money in the candidate's palm.
A few weeks after Citizens United, a lower court joined the festivities by ruling that certain political action committees could also accept unlimited contributions for so-called "independent" expenditures. So as not to leave anybody out, individual donors were included too. The Super PAC was born.
By mid September 2012 Super PACs aligned with Republicans had already spent $83 million on attack ads against President Obama, while pro-Obama Super PACs had spent $30 million. One well-heeled Republican donor, Sheldon Adelson, has vowed to personally spend $100 million to influence the 2012 elections.
Is all this good for democracy? What can we do about it? On September 20, The Nation attempts an answer in a special issue titled "The 1% Court," with an introduction by Bill Moyers, who has spoken out repeatedly against Citizens United. I talked about those questions and others around corporate influence on the Court and the government itself with Katrina vanden Heuvel, editor of The Nation, on my radio show Equal Time With Martha Burk.
MB: Let's go back to when this got rolling -- the mid-term elections in 2010. Only 15% of the money spent was a result of Citizens United because it was a brand-new ruling. You wrote in the Washington Post that 2010 was a test case. Conservatives and their corporate allies were "dipping their toes in the water, gauging the legal boundaries of the new landscape. They liked what they found."
KvH: They certainly did. We've seen a 427% increase in spending since 2010. We're looking at a presidential election with a price tag expected to reach over $2 billion. Overarching all of this is a dramatic assault on American democracy and the fundamental principle of one person, one vote.
MB: Some have tried to make the case that Citizens United isn't that harmful, because most of the money coming into the Super PACs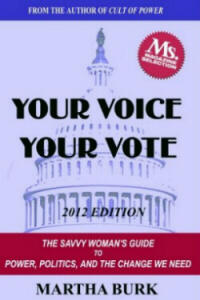 isn't from corporations or unions, but from individuals like Adelson. Just ordinary people giving to causes and trying to elect candidates they like.
KvH: We are witnessing the derugulation of campaign finance - the scaffolding that was erected to protect people from the barrage of big corporate money. A moment where corporate power is virtually unchecked. It's a fundamental concept of how you balance interests. The Koch brothers are the poster boys of this anti-people campaign finance structure.
MB: Has Citizen's United sparked a counter movement.?
KvH: We had a week of people across this country -- called Resolutions Week — where legislators in cities and counties have approved resolutions calling for a constitutional amendment to get money out of politics, to overturn Citizens United. A constitutional amendment is a heavy lift. But it's a long-term goal around which to organize and agitate.
MB: Many people don't realize is that you can't find out who is paying for these ads [unless the donor discloses it voluntarily].
KvH: Anonymity is so destructive. And it may well be that Americans will get most of their information from attack ads because local news has been cut back, and it's very dangerous.
MB: One reform that has been mentioned is that if a corporation runs these ads, the CEO has to come on and say "I'm [for example] Jamie Dimon and I approved this message."
KvH: I love that because there's all this talk about taking responsibility, so make that CEO whose corporation is pumping money in take that responsibility.
MB: Does the media have a role here?
KvH: We have not seen the corporate broadcast media play a constructive role. The money is so huge, the media is complicit in this financial-campaign-industry complex. It's going to require agitation and exposure.
MB: All kinds of other races are being polluted by this money - down ticket races and ballot initiatives.
KvH: Yes. In the short term - as a minimum - we need disclosure, disclosure, disclosure.
MB: What is the most important thing voters ought to be paying attention to this year in regard to money in politics?
KvH: Voting is the first step. Accountability, engagement, movement pressure. The fight for an amendment, for a more democratic country is not an easy one. It demands engagement.