IPS Blog
Entries tagged "nuclear"
Nuclear Tuna and NPR's Trivialization
May 31, 2012 · By Robert Alvarez
Yesterday, National Public Radio (NPR) ran a story asserting that cesium-137 from the Fukushima nuclear accident found in Bluefish tuna on the west coast of the U.S. is harmless.


It's not harmless. The Fukushima nuclear accident released about as much cesium-137 as a thermonuclear weapon with the explosive force of 11 million tons of TNT. In the spring of 1954, after the United States exploded nuclear weapons in the Marshall Islands, the Japanese government had to confiscate about 4 million pounds of contaminated fish.

Radiation from Fukushima spread far and wide. Like American hydrogen bomb testing, the Fukushima nuclear accident deposited cesium-137 over 600,000 square-miles of the Pacific, as well as the Northern Hemisphere and Europe. With a half-life of 30 years, cesium-137 is taken up in the meat of the tuna as if it were potassium, indicating that the metabolism holds on to it.
According to a previously secret 1955 memo from the U.S. Atomic Energy Commission regarding concerns of the British government over contaminated tuna, "dissipation of radioactive fall-out in ocean waters is not a gradual spreading out of the activity from the region with the highest concentration to uncontaminated regions, but that in all probability the process results in scattered pockets and streams of higher radioactive materials in the Pacific. We can speculate that tuna which now show radioactivity from ingested materials have been living, in or have passed through, such pockets; or have been feeding on plant and animal life which has been exposed in those areas."

In 2001, the U.S. Agency for Toxic Substances Disease Registry noted that "...concentrations of cesium within muscle tissue are somewhat higher than the whole-body average. Cesium has been shown to cross the placental barrier of animals..."

There are several reasons why it's not advisable to eat Bluefin tuna:
Cesium-137 adds to the contaminant risk of harm to humans eating the Bluefin tuna, especially pregnant women and infants, who are the most vulnerable, and will for some time to come.
Bluefin tuna is an endangered species because of over-fishing and contamination.
Bluefin tuna accumulate other contaminants such as mercury from sources such as coal-fired power plants.
If NPR had been around in the 1950's, would it also have trivialized the impacts of open-air hydrogen bomb testing?
Remembering Paul Jacobs as the Struggle for Better Nuclear Safety Continues
May 26, 2011 · By Matias Ramos
Starting this Saturday, Link TV will air the Emmy-winning documentary "Paul Jacobs and the Nuclear Gang." The film, produced by IPS fellow Saul Landau and Jack Willis in 1979, explores the effects of radiation exposure on different groups of Americans. Paul Jacobs, a former Fellow at the Institute for Policy Studies, a journalist, activist and co-founder of Mother Jones magazine, investigated the results of atomic bomb tests on civilians and soldiers who were unwittingly used as guinea pigs.
Unsafe nuclear practices affected many people. Residents of Utah and Arizona living downwind from the Nevada nuclear test sites of the 1950s, U.S. soldiers exposed to military nuclear blasts, and farmers living around a Colorado plant that produced plutonium triggers all got cancer at elevated rates. Because of his work, Jacobs himself was part of the production and a subject of the film. He believed his cancer, which would claim his life during the making of the documentary, had been caused by his work around exposing the dangers of nuclear power and weapons.
The Institute's current work still shows our commitment to clean and safe energy, evidenced by the new report by Robert Alvarez on the dangerous system of storing spent fuel at nuclear reactors. Clearly, nuclear hazards haven't receded. The nation's reckless approach to storing spent nuclear fuel without essential safeguards threatens us all.
In the film, Jacobs confronted the harm of nuclear exposure and the possibility of his own death. He interviewed many who felt the same pain, but he summarized his relentless passion for progressive work as being part of a legacy of change makers committed to building the world for the next generation:
At the time of Jacobs' death, his fellow Mother Jones co-founder Adam Hochschild wrote:
"When he discovered he had cancer, he went to war against it with the same energy with which he fought every battle of his life. He saw this disease that had had the chutzpa to invade his body almost as a personal enemy."
To see the full list of show times for Paul Jacobs, click here.
Is Homer Simpson Working at the Los Alamos National Laboratory?
October 6, 2010 · By Robert Alvarez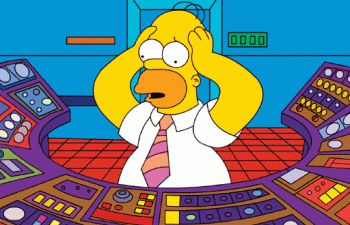 According to recent reports by the Energy department's Defense Nuclear Facility Safety Board, a potentially explosive compound formed from a combination of bathroom cleaners and plutonium vapors has shut down two processing areas inside Los Alamos National Laboratory's Plutonium Facility-4 (PF-4). This threat has stopped plutonium processing in the nation's only facility for production of plutonium "triggers" for nuclear weapons since mid-July.
In other words, toilet room fumes have interacted with plutonium vapors in a common vent system to form an ammonium-nitrate compound -- the same type of explosive used in the Oklahoma City bombing. For years, personnel were finding this dangerous white powder on filters, without bothering to know what it was.
So much for the expertise of Los Alamos where billions of dollars are spent each year to better understand nuclear explosives.
Our Latest: Calderon, Thailand, and the Myth of Overtaxation
May 25, 2010 · By Jennifer Doak
Obama doesn't appear to be altering his predecessor's policy toward Mexico, Manuel Perez-Rocha says, after Calderon's visit last week.
"We in Haiti are committed to staying a county where organic, biological agriculture dominates. We know that Clinton and the multinationals, the IMF and the WTO, have another plan for us - one based on the import of GM seeds and food aid, one based on making us grow for export, including growing for agro-diesel. But we're putting on pressure to say: no, that's not what Haiti needs, here is what popular Haitian organizations want, here is our agenda." Part of an interview by associate fellow Bev Bell.
People in the Marshall Islands have sacrificed their health and their homeland for U.S. national security interests, writes Bob Alvarez. The Obama administration should correct this injustice.
FPIF columnist Walden Bello explains how and why the riots in Thailand occurred.
Is overtaxation our phoniest problem? Associate fellow Sam Pizzigati explores the myth in his Too Much Online blog.
IPS friend and ally Antonia Juhasz asks, "How far should we let Big Oil go?"