IPS Blog
Entries tagged "Media Reform"
The One Percent Supreme Court: A Conversation with the Nation's Katrina vanden Heuvel
September 21, 2012 · By Martha Burk
Whether you're a Democrat, Republican, tea-partier, liberal, conservative, or in-between, you're experiencing an election season unlike any in U.S. history. That's because the rules on political spending have changed in a billion dollar way.
In 2010, the Supreme Court ruled in the now-infamous Citizens United decision that corporations must be treated the same as people when it comes to political speech. The Court said the ban on using corporate cash to endorse or oppose political candidates (in place since 1947) was unconstitutional. The ruling freed them up to spend money both on "electioneering communications" and advocating for the election or defeat of candidates — so long as they don't actually put the money in the candidate's palm.
A few weeks after Citizens United, a lower court joined the festivities by ruling that certain political action committees could also accept unlimited contributions for so-called "independent" expenditures. So as not to leave anybody out, individual donors were included too. The Super PAC was born.
By mid September 2012 Super PACs aligned with Republicans had already spent $83 million on attack ads against President Obama, while pro-Obama Super PACs had spent $30 million. One well-heeled Republican donor, Sheldon Adelson, has vowed to personally spend $100 million to influence the 2012 elections.
Is all this good for democracy? What can we do about it? On September 20, The Nation attempts an answer in a special issue titled "The 1% Court," with an introduction by Bill Moyers, who has spoken out repeatedly against Citizens United. I talked about those questions and others around corporate influence on the Court and the government itself with Katrina vanden Heuvel, editor of The Nation, on my radio show Equal Time With Martha Burk.
MB: Let's go back to when this got rolling -- the mid-term elections in 2010. Only 15% of the money spent was a result of Citizens United because it was a brand-new ruling. You wrote in the Washington Post that 2010 was a test case. Conservatives and their corporate allies were "dipping their toes in the water, gauging the legal boundaries of the new landscape. They liked what they found."
KvH: They certainly did. We've seen a 427% increase in spending since 2010. We're looking at a presidential election with a price tag expected to reach over $2 billion. Overarching all of this is a dramatic assault on American democracy and the fundamental principle of one person, one vote.
MB: Some have tried to make the case that Citizens United isn't that harmful, because most of the money coming into the Super PACs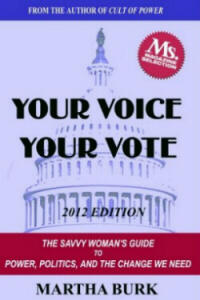 isn't from corporations or unions, but from individuals like Adelson. Just ordinary people giving to causes and trying to elect candidates they like.
KvH: We are witnessing the derugulation of campaign finance - the scaffolding that was erected to protect people from the barrage of big corporate money. A moment where corporate power is virtually unchecked. It's a fundamental concept of how you balance interests. The Koch brothers are the poster boys of this anti-people campaign finance structure.
MB: Has Citizen's United sparked a counter movement.?
KvH: We had a week of people across this country -- called Resolutions Week — where legislators in cities and counties have approved resolutions calling for a constitutional amendment to get money out of politics, to overturn Citizens United. A constitutional amendment is a heavy lift. But it's a long-term goal around which to organize and agitate.
MB: Many people don't realize is that you can't find out who is paying for these ads [unless the donor discloses it voluntarily].
KvH: Anonymity is so destructive. And it may well be that Americans will get most of their information from attack ads because local news has been cut back, and it's very dangerous.
MB: One reform that has been mentioned is that if a corporation runs these ads, the CEO has to come on and say "I'm [for example] Jamie Dimon and I approved this message."
KvH: I love that because there's all this talk about taking responsibility, so make that CEO whose corporation is pumping money in take that responsibility.
MB: Does the media have a role here?
KvH: We have not seen the corporate broadcast media play a constructive role. The money is so huge, the media is complicit in this financial-campaign-industry complex. It's going to require agitation and exposure.
MB: All kinds of other races are being polluted by this money - down ticket races and ballot initiatives.
KvH: Yes. In the short term - as a minimum - we need disclosure, disclosure, disclosure.
MB: What is the most important thing voters ought to be paying attention to this year in regard to money in politics?
KvH: Voting is the first step. Accountability, engagement, movement pressure. The fight for an amendment, for a more democratic country is not an easy one. It demands engagement.
Josh Fox's New Fracking Gem
June 28, 2012 · By Daphne Wysham
If ever an online video should go viral, it is Gasland director Josh Fox's vital new 18-minute gem, The Sky Is Pink.
It should become a widespread hit because:
It's brilliant.
It's funny.
It will scare the crap out of you and make you want to take action.
The film's title comes out of the mouth of a public official in Pittsburgh who, in Michael Moore comedic-style language, talks about how the media will report lies — "the sky is pink" — unless someone is out there to regularly rebut them. And if you say, "The sky is blue," the media will report this as a debate worthy of coverage.
What's brilliant about Fox's mini-documentary is that he both exposes the disinformation campaign being waged by the natural gas industry — and its allies in (very) high places — and reveals, in leaked documents and PowerPoint presentations, that the industry is fully aware that its fracking wells are contaminating water. Formally called hydraulic fracturing or shale-gas drilling — fracking requires large quantities of water and a cocktail of toxic chemicals. By poisoning drinking water and farmland, it endangers public health.
The natural gas industry lies. Its executives know they lie. And we swallow their lies. Literally.
As someone who has wrestled with the climate crisis for over two decades, this mini-doc comes at a critical time. The crisis in journalism — with investigative journalism increasingly rare, and corporate control of the media at unprecedented heights — is one reason the Earth's climate is increasingly unstable. Tragically, we may already have reached critical tipping points, with dire consequences for everyone.
Watch this new film and weep for our water, our democracy, and our future.
Then spread the word and take action. Here are some great groups to support who are fighting fracking, working on media democracy issues, and trying to get the word out on the environmental crisis.
Daphne Wysham hosted Earthbeat, the only weekly radio show in North America devoted specifically to climate change news and interviews, breaking environmental news, and environmental justice perspectives from 2003-2011. Earthbeat aired on over 60 public radio stations in the U.S. and Canada. The show is on hiatus, but not for long.
The Great White Mancave
April 13, 2012 · By Emily Schwartz Greco
For years, researchers have parsed the nation's top op-ed sections and deemed them to be too male and too white. With this problem so openly acknowledged, you'd think that there'd be some improvement. Well, you'd be wrong.
The media reform organization FAIR, an OtherWords partner, reviewed the commentaries featured in The Washington Post, The New York Times, and The Wall Street Journal between September and October 2011. It summarized the results in the latest edition of Extra!, the organization's monthly magazine.
FAIR's report is packed with interesting data and observations. A few examples:
Latinos, who now make up 16 percent of the U.S. population, wrote less than 0.5 percent of the commentaries published in these three top newspapers over the two-month period.
African American bylines comprise 1 percent of the commentaries the Wall Street Journal published over this two-month period.
Women remain underrepresented in these three op-ed sections. They penned only 6 percent of the Journal's guest columns, for example.
Having tried to improve the diversity of voices that OtherWords features for the past two and a half years, I've learned that this challenge is harder than it sounds. FAIR's study serves as a great reminder of why it's so important for this editorial service to meet that challenge.
After some improvement under IPS stewardship, OtherWords is doing a better job at amplifying the voices of women and people of color than these three op-ed sections. But that's not saying much. In September and October 2011, the period FAIR reviewed, 25 percent of OtherWords commentaries were by women and 5 percent were by people of color. We can and will improve this track record.
FAIR's report also notes that these three prominent opinion sections range from right-of-center to conservative. I've noticed the same thing. The Washington Post touts centrists Dana Milbank and Richard Cohen as being part of its "left-leaning" lineup. The Post's right-leaning squad, however, is packed with "severe conservatives" like George Will and Charles Krauthammer.
FAIR also found that the Occupy movement's arrival during the period studied didn't make a dent on the overall conservative tenor of the commentaries these newspapers published. "While coverage in papers' news sections increased dramatically from September to October (2011), the opinion pages at the Times, Post and Journal remained entirely free of the voices of those involved," wrote researcher Nick Porter.
Because the Post, Times, and Journal are widely syndicated, the imbalance in their lineups is magnified throughout the media. Their columns run in hundreds of newspapers and new media outlets. Here are some examples.
In 2007, Media Matters released an in-depth study on the rightward tilt of op-ed sections. It found that the top three, measured in terms of the number of newspapers in which they are featured, were George Will, Cal Thomas, and Kathleen Parker. Will, Thomas and Parker all appear on Townhall.com, which bills itself as "the leading source for conservative news and political commentary and analysis." Today, Thomas and Will are in about 500 newspapers and Parker's in more than 350.
Emily Schwartz Greco is the managing editor of OtherWords, a non-profit editorial service run by the Institute for Policy Studies.
The New Age of Journalism
July 13, 2011 · By Timeka Smith
The media has ADD.
One minute the hot story is a citizen revolt in Egypt and the next is a tsunami in Japan.
How much time was dedicated to the disaster in Haiti before mainstream media shifted its focus to yet another story? Meanwhile, the mainstream media has forgotten about Haiti, even though that country continues to suffer from the earthquake's aftermath.
Al Jazeera, however hasn't abandoned Haiti. Sebastian Walker, an Al Jazeera English correspondent, was on the ground 24 hours after the magnitude 7.0 earthquake devastated the country. He has remained there for over a year to document the progress of the relief effort, making Al Jazeera English the only international TV network to maintain a permanent presence in Port-au-Prince.
National and international reports are disseminated every hour of the year, yet we're exposed to the same stories hour after hour, day after day for all of one week and then it's on to the next cycle. If news is aired 24 hours a day why is it that frequently only one story gets so much attention at any given time?
Clearly, there's room to provide more in-depth reporting regarding pertinent international issues. While many mainstream media sources skimp on important international issues, Al Jazeera places more emphasis on the stories that deserve attention. This one-of a- kind news outlet is dedicated to focusing greater efforts to report real international issues from many angles and questioning why decisions are made.
Al Jazeera English was the first 24-hour English-language news and current affairs TV channel produced in the Middle East. Its programming includes news and analysis, documentaries, business, technology and sports.
At a recent event featuring Walker, Rethink Press and IPS' New Internationalism Project were able to attract many student interns. There was standing room only in Busboys & Poets' Langston Room as the speakers attempted to persuade this group of young adults to participate in a campus call-in action to spread the word about the greatness that is Al Jazeera English.
On June 27, 2011, we were urged to take action in our hometowns and/or college campuses to bring Al Jazeera English to local cable networks. Currently, Al Jazeera English channel is available in only four U.S. cities. Since 2006, the primary method of dissemination for Al Jazeera programs in the United States has been through online streaming and is the most watched news channel on YouTube. It receives approximately 2.5 million views per month. Rethink Press is advocating for Al Jazeera news to be included on cable tv in order to reach a broader audience. IPS Fellow Phyllis Bennis spoke to the attendees about the importance of a new voice in the media that is not controlled by U.S. corporate interests:
Prior to this event, I wasn't familiar with Al Jazeera English but the intern mixer has definitely piqued my interest in becoming involved in the cause. Kudos to Rethink Press for making the case for the expansion of this news station and bringing it to the attention to over 80 students representing at least 10 organizations in the DC, Maryland, and Northern Virginia metro area.
Timeka Smith is an Institute for Policy Studies intern.