IPS Blog
Entries tagged "2012 Elections"
Page Previous 1 • 2 • 3 • 4 Next
Romney Versus Realonomy: A Peek Inside the Bubble
October 2, 2012 · By Salvatore Babones
Republican presidential candidate Mitt Romney has been roundly criticized for being a wooden, out-of-touch plutocrat who pays a lower effective tax rate than the vast majority of Americans yet believes that 47 percent of Americans merely mooch off the government.
It's no secret that Romney favors tax cuts that will mainly benefit the very rich. And why shouldn't he? He has a long record of seeking to minimize his own taxes.
But what about the rest of his economic program? Mitt Romney is no one-dimensional "tax cuts are always the answer" Republican. He has a 160-page, seven-part "plan for jobs and economic growth" that includes sections on taxes, regulation, trade, labor, human capital, government spending and energy.
Read the rest of Salvatore Babones' Truth-Out breakdown of the Romney Plan by clicking here.
The One Percent Supreme Court: A Conversation with the Nation's Katrina vanden Heuvel
September 21, 2012 · By Martha Burk
Whether you're a Democrat, Republican, tea-partier, liberal, conservative, or in-between, you're experiencing an election season unlike any in U.S. history. That's because the rules on political spending have changed in a billion dollar way.
In 2010, the Supreme Court ruled in the now-infamous Citizens United decision that corporations must be treated the same as people when it comes to political speech. The Court said the ban on using corporate cash to endorse or oppose political candidates (in place since 1947) was unconstitutional. The ruling freed them up to spend money both on "electioneering communications" and advocating for the election or defeat of candidates — so long as they don't actually put the money in the candidate's palm.
A few weeks after Citizens United, a lower court joined the festivities by ruling that certain political action committees could also accept unlimited contributions for so-called "independent" expenditures. So as not to leave anybody out, individual donors were included too. The Super PAC was born.
By mid September 2012 Super PACs aligned with Republicans had already spent $83 million on attack ads against President Obama, while pro-Obama Super PACs had spent $30 million. One well-heeled Republican donor, Sheldon Adelson, has vowed to personally spend $100 million to influence the 2012 elections.
Is all this good for democracy? What can we do about it? On September 20, The Nation attempts an answer in a special issue titled "The 1% Court," with an introduction by Bill Moyers, who has spoken out repeatedly against Citizens United. I talked about those questions and others around corporate influence on the Court and the government itself with Katrina vanden Heuvel, editor of The Nation, on my radio show Equal Time With Martha Burk.
MB: Let's go back to when this got rolling -- the mid-term elections in 2010. Only 15% of the money spent was a result of Citizens United because it was a brand-new ruling. You wrote in the Washington Post that 2010 was a test case. Conservatives and their corporate allies were "dipping their toes in the water, gauging the legal boundaries of the new landscape. They liked what they found."
KvH: They certainly did. We've seen a 427% increase in spending since 2010. We're looking at a presidential election with a price tag expected to reach over $2 billion. Overarching all of this is a dramatic assault on American democracy and the fundamental principle of one person, one vote.
MB: Some have tried to make the case that Citizens United isn't that harmful, because most of the money coming into the Super PACs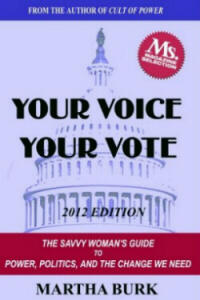 isn't from corporations or unions, but from individuals like Adelson. Just ordinary people giving to causes and trying to elect candidates they like.
KvH: We are witnessing the derugulation of campaign finance - the scaffolding that was erected to protect people from the barrage of big corporate money. A moment where corporate power is virtually unchecked. It's a fundamental concept of how you balance interests. The Koch brothers are the poster boys of this anti-people campaign finance structure.
MB: Has Citizen's United sparked a counter movement.?
KvH: We had a week of people across this country -- called Resolutions Week — where legislators in cities and counties have approved resolutions calling for a constitutional amendment to get money out of politics, to overturn Citizens United. A constitutional amendment is a heavy lift. But it's a long-term goal around which to organize and agitate.
MB: Many people don't realize is that you can't find out who is paying for these ads [unless the donor discloses it voluntarily].
KvH: Anonymity is so destructive. And it may well be that Americans will get most of their information from attack ads because local news has been cut back, and it's very dangerous.
MB: One reform that has been mentioned is that if a corporation runs these ads, the CEO has to come on and say "I'm [for example] Jamie Dimon and I approved this message."
KvH: I love that because there's all this talk about taking responsibility, so make that CEO whose corporation is pumping money in take that responsibility.
MB: Does the media have a role here?
KvH: We have not seen the corporate broadcast media play a constructive role. The money is so huge, the media is complicit in this financial-campaign-industry complex. It's going to require agitation and exposure.
MB: All kinds of other races are being polluted by this money - down ticket races and ballot initiatives.
KvH: Yes. In the short term - as a minimum - we need disclosure, disclosure, disclosure.
MB: What is the most important thing voters ought to be paying attention to this year in regard to money in politics?
KvH: Voting is the first step. Accountability, engagement, movement pressure. The fight for an amendment, for a more democratic country is not an easy one. It demands engagement.
Somebody vs. Someone Else vs. Obama
February 24, 2012 · By Emily Schwartz Greco
Phew. Those 20 debates felt like they'd never end. Now that they're over, however, the Republican Party isn't particularly close to selecting its presidential nominee.
Given the distractions caused by the candidates' many gaffes and their stunning assertions, it's hard to notice that the 2012 race for the Republican presidential nomination may become the most unpredictable for either major party since the GOP settled on Barry Goldwater in 1964. And most voters probably don't realize that it looks like three heavily funded candidates will be on the ballot in November.
Mitt Romney, Rick Santorum, and Newt Gingrich have each won at least one primary. Ron Paul came close to winning Maine's non-binding caucus. So, it's no longer OK, as Santorum might say, to treat Romney as the frontrunner. He-Who-Must-Not-Be-Googled is ahead of Romney in at least one national poll and essentially tied with him in another.
Most voters probably presume that Romney will ultimately claim the nomination. That's why the formerly moderate former Massachusetts governor won the reactionary American Conservative Union's straw poll at CPAC. Meanwhile, national opinion polls indicate that Obama would beat Romney or Santorum in a two-way contest.
One growing possibility is a brokered convention, where the delegates themselves would pick a different nominee. America hasn't had one since 1952, when Illinois Gov. Adlai Stevenson clinched the Democratic nomination primarily because he gave a great speech. If by August polls still point to a loss for the GOP frontrunner in November, this could happen at the Republican National Convention in Tampa. Brokering would make political junkies, who get bored by conventions that are really just coronations, very pleased.
If this happens, the party's brass would choose a new candidate they deem capable of beating Obama. New Jersey Gov. Chris Christie, Florida Gov. Jeb Bush, and Indiana Gov. Mitch Daniels would be the most popular options, according to a recent poll by Quinnipiac University. But none of them seems any more viable than Romney or Santorum, so don't be surprised if someone else gets on the ballot. But since the same poll found that more Republican and Republican-leaning voters oppose the brokered option than support it, that kind of maneuver could prove costly for the party.
Meanwhile, those Super PACs unleashed by the Supreme Court's Citizens United ruling are spending unprecedented sums of money, which will ensure that campaign 2012 remains volatile until Election Day. Plus, thanks to a wave of vote-suppressing legislative gimmickry across the country, it's quite likely that Obama will lose out on votes that he would otherwise win.
Then there's Americans Elect, an initiative bankrolled by big hedge-fund money. It's spending more than $22 million to get its own yet-to-be-named candidate on the ballot across the nation. This undemocratic scheme is canvassing voters via the Internet but reserving the right to pick its own winner if the moneybags behind it reject the people's choice.
Despite not being a real political party, Americans Elect is already on the ballot in 14 states. Only time will tell who will run on that ticket and whether this candidate will help or hinder Barack Obama. Or the Republican nominee. Whoever that's going to be.
Emily Schwartz Greco is the managing editor of OtherWords, a non-profit editorial service run by the Institute for Policy Studies. OtherWords.org
Populism and Pain in Obama's 2013 Budget Proposal
February 14, 2012 · By Karen Dolan
Mitt Romney said it this way:
"I'm not concerned about the very poor. We have a safety net there. If it needs a repair, I'll fix it. I'm not concerned about the very rich, they are fine....I'm concerned about the very heart of America."

President Barack Obama said it this way:
"We can restore an economy where everybody gets a fair shot, everybody does their fair share, everybody plays by the same set of rules — from Washington to Wall Street to Main Street. That's the America we believe in."

Both want to appeal to a hurting middle-class electorate. Only one has a populist message with appeal and effect. He most likely will win re-election in 2012.


Obama's $3.8 trillion 2013 budget proposal, with its 10-year outlook, is by design a populist campaign tool. Though not politically viable now, his newly released budget is critically important in this election year both for the values it reflects, the vision it promotes and the potential it promises.

Obama's budget has a populist tone, appeals to the middle class, and has some good proposals, both on investment and revenue-raising. But it also reflects the strict spending caps mandated this past summer by the Budget Control Act and hits some struggling families hard. It doesn't go nearly far enough in revenue-raising. For instance, it does't propose a tax on financial transactions that would curb Wall Street's worst speculation or propose significant corporate tax reform that would actually raise needed funds. And, by reducing non-security discretionary spending from its current 3.1 percent of GDP to a 50-year low of 1.7 percent over the next decade, a lot of pain will set in when the populism starts to wears off.

Let's start with the good. Among the good proposals on investment side:
The extension of the payroll tax cut and unemployment benefits through the end of 2012.
School modernization and plans to retain teachers and first responders.
Project Rebuild which helps to match unemployed in distressed communities with those communities' infrastructure needs.
A small business tax credit that incentivizes new hiring.
Increased child care funding.
Improvements in Earned Income Tax Credit and Child Tax Credit.
Tax incentives for manufacturers that keep and create jobs here in the United States.
A National Infrastructure Bank that would fund projects that increase sustainable transportation and infrastructure investment.
A total of $850 million in Race to the Top education proposals intended to improve the quality of education from early childhood through higher education.
Efforts to make college more affordable through sustaining Pell grant funding, keeping interest on student loans from increasing, and reining in tuition hikes.
A 7 percent increasing in new biomedical research grants.
Support for a more sustainable economy through goals of increasing electric car production, doubling the share of "clean energy" electricity sources, and reducing the energy consumed by buildings by 20 percent by 2020.
And, among good proposals on the revenue side:
Support sustainable energy and environment innovations by eliminating 12 tax breaks to the oil, gas, and coal industries by $41 billion over the next 10 years.
Spend $487 billion less on the military over the coming decade.
Make the "Buffet Rule" law, ensuring that millionaires pay a 30 percent tax rate on un-earned income.
Let the Bush Era tax cuts for families making over $250,000 a year expire.
On to the bad. Here are some aspects of Obama's proposed budget that aren't as good as they might first seem:
According to the Citizen's For Tax Justice, although the Obama plan proposes revenues from letting Bush era tax cuts expire for couples making over $250,000, it makes permanent 78 percent of the Bush tax cuts at a cost of $3.4 trillion over the next 10 years.
Obama's proposal to replace the Alternative Minimum Tax with the "Buffet Rule" may not produce any new revenue at all.
Details remain undisclosed about corporate tax reform proposals, but Obama has suggested they will be revenue-neutral. How is that a good thing?
Even with this modest reduction in Pentagon spending, Obama's budget proposal still leaves an extreme imbalance between military and non-military spending.
Now, for the Ugly: Last year's Budget Control Act mandated $1 trillion in discretionary cuts. Much of that must come from programs that low-income people rely on for critical human needs. After a hard year of cuts in 2011, this budget proposal calls for a devastating 14 percent cut in social spending. Here are some examples where cuts occur:
Health care services, career opportunities programs for low-income people.
Children's mental health services.
Housing for disabled people.
Housing for people with HIV/AIDS.
Rental Assistance benefits for low-income people.
Home heating assistance for low-income people.
Community Development Block Grants which help to fund critical human need services.
Programs in the Environmental Protection Agency.
Programs in the National Park Service.
This budget proposal will appeal to the middle class and puts Obama in a more popular position than Romney as the 2012 presidential election season heats up. But while this budget has the populist thrust of cutting long-term deficit and debt by attempting to balance spending cuts and revenue increases, it falls short. It bolsters some needed programs, but unnecessarily defunds others. By not calling for all of the Bush era tax cuts to expire, not calling on Wall Street to pay its fair share through enacting a small levy on speculative financial transactions, not cutting military base and war spending deeply enough and not calling for the kind of corporate tax reform that will produce revenue, Obama is letting the 1 percent off rather easy, while the rest of us, especially the poor, shoulder the pain.
Karen Dolan Weighs in on Romney's Latest Gaffe
February 2, 2012 · By Emily Schwartz Greco
Karen Dolan, an IPS expert on poverty and the nation's frayed safety net, has published an op-ed on CNN's website in response to GOP presidential hopeful's latest "oops" moment:
"I'm not concerned about the very poor." Oops. Mitt Romney messed up. Again. This was a bigger "oops moment" for Romney than when he said a few weeks ago that the $374,327 he earned in speakers' fees over the course of 12 months amounted to "not very much." It was bigger than "I like being able to fire people." It was the biggest since he blurted out that "corporations are people, my friend" at the Iowa State Fair.

Call it a Freudian slip, call it overconfidence emerging from a big win in the Florida Republican primary, call it a classic, out-of-touch-sounding "Rich Romney" gaffe. It may be all of those things, but this comment represents a scripted piece of the Romney campaign strategy. He hopes to co-opt an Obama campaign message aimed at appealing to the middle-class voters each will need in the general election.
Due to CNN.com's editorial policies, we're unable to post the whole thing here. But please read it on their website, and check out some of the 1,800 comments logged so far. Since too many of them are unsympathetic toward the poorest among us, be sure to weigh with your two cents, and spread the word via Facebook and Twitter.
Update: Many conservatives are attacking Romney in the wake of this gaffe. The Daily Kos has a fantastic summary. Here's a sample quote from National Review's Jonah Goldberg: "His language makes him seem like a caricature of a conventionally stiff country club Republican."